Help when you need it
College life can sometimes seem daunting, but don't worry! We have a team of people who work alongside your subject teachers to make sure you get help when you need it. Students at St Brendan's are all treated as individuals and staff work hard to ensure your education and support is tailored to you.
Tutorial Programme
Academic Mentors will be there to help you settle in and guide you towards achieving your personal best, from your first day until the day you leave. The College encourages parents/carers to contact your Academic Mentor if they are concerned about any aspect of your progress or welfare. Their aim is to empower you to take responsibility for your own learning and they are an advocate between you, your subject teachers and home. They're also available if you want to discuss any personal issues and to signpost you to other organisations that can help you.

You will be timetabled to meet regularly with your Mentor and your tutor group. During these meetings your attendance, progress and effort will be monitored and you will also be prepared for the next stage in your life, be it university, an apprenticeship, a gap year or the world of work. Attendance at tutor periods will be an essential commitment for you and an integral part of your time at St Brendan's.

We believe you are a young adult and our tutorial programme, delivered by your Academic Mentor, focuses on enabling you to plan and develop your studies so that you leave St Brendan's with a much clearer understanding of yourself and the variety of options that are open to you beyond sixth form.
Additional Education Support
We welcome students who have a disability, specific learning difficulty or medical condition and actively encourage early disclosure of needs so that we can talk to you about your support requirements. To ensure that the best possible support can be provided, it's important that students with recognised needs are assessed prior to entry to the College: a space on the application form is made available for this information and it can be discussed further at interview. Any written evidence of a learning difficulty should be included with the application so that we can plan for particular needs or apply for examination concessions, if applicable.

The College has a specialist Learning Development team who provide additional learning support which is tailored to you. The team has its own suite of rooms including dedicated computers, specialist software and a quiet zone.
The Learning Support Team offers one-to-one development or small group support to enable you to develop the necessary skills to succeed on your course. This might be specialist support for an impairment or disability, individually planned support for those with a recognised learning difficulty, or generalised help to raise the standard of work for any student, whether or not you have a specific difficulty. Assistance is offered for all subjects with an emphasis on study skills and essay writing, using a variety of techniques and resources.

The welfare support team at St Brendan's offers a confidential non-judgemental space where you can talk about any problems which may be affecting your ability to study. With welfare support you can talk about your problems and worries and find alternative ways of moving forward in life. Appointments are available for all students.
To find out more about Learning Development and SEND click here.
I came from a school in Bath and had just completed
Year 12. This was a difficult year as the subjects I chose
were too demanding and caused me a lot of stress;
particularly as I did not get the support I was entitled to.
However, coming to St Brendan's has been great! This
is because I put my head down, used my time and the
support available well in order to apply myself to
my subjects.

I have felt so much happier in many ways and I
particularly like the staff's attitude and informality.
Learning support has been the best I've ever had.
Religion, Philosophy and Ethics (RPE)
The Religion, Philosophy and Ethics programme is a compulsory course which deals with interesting philosophical, religious and moral issues. The course is taught in one 45 minute lesson per week - there is no homework or exam. Faith or religious affiliation isn't expected or required, but students are encouraged to have a positive attitude to discussing a wide range of issues which will impact on their lives now and in the future. The College is Catholic in its religious tradition, but this doesn't mean we impose a set of ideas and values on you. On the contrary, the aims of the lessons are to introduce you to a variety of ideas and encourage you to analyse and discuss rigorously. As a Catholic College we encourage the widest debate possible because we are enthusiastic for all students to have the opportunity to share their ideas with others from different religious and non-religious backgrounds. Students begin to realise that this programme sharpens their skills of analysis, understanding, and reflection and supports them as they mature into young adults. The course is assessed on a variety of criteria and you are awarded certificates for Distinction, Merit and Pass. These awards will be referred to in any College reference, including university.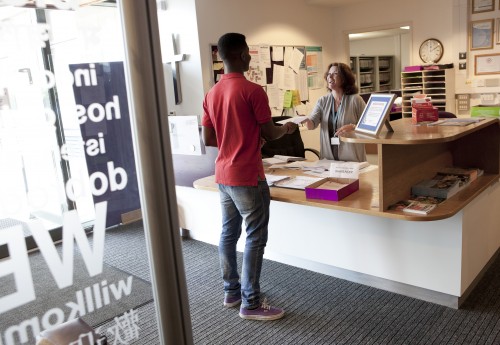 Careers Advice and Guidance
You will be able to plan your next step beyond College life using the information provided on the careers programme. Our own Careers Hub Team work closely with students and Academic Mentors to provide a comprehensive service. Advice and guidance are provided on your progression to employment, higher or further education or work-based training including apprenticeships. Specialist help is available to you when you complete your UCAS form, write your CV and practise your interview technique. Appointments are available for all students and the Careers Hub lies within Cafe Max which is easily accessible by all.
For more information, click here